The Big Ten reprimands Maryland coach Edsall, suspends WR Digg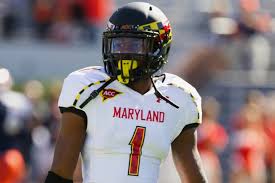 Maryland WR Stefon Diggs was suspended by the Big Ten, and sports software services found out that both coach Randy Edsall and the player got a public scolding after they broke the Big Ten Sportsmanship Policy before the team took on Penn State on Saturday.
The Terrapins were also given a fine of $10,000 for breaking the rules.
The reprimand and suspension given came after a scuffle before the game that the Big Ten said was started by Maryland. The player ended up being flagged due to unsportsmanlike behavior, and Edsall was reprimanded by the conference for not failing to control his men.
"I accept the penalties handed down by the Big Ten Conference and take full responsibility of our actions this past Saturday at Penn State," said Edsall. "Our football program did not live up to the standards that we set for ourselves. Moving forward, we will use better judgment and remain composed so that we better represent the University of Maryland. We have learned from this experience and will take the necessary steps to make sure this does not happen again."
The Big Ten's punishment did not have a direct connection with Maryland not shaking hands with Penn State prior to the game, even though this issue was mentioned separately in a statement released by the conference.
"The decision by Maryland team captains to not shake hands with Penn State team captains during the pregame coin toss ceremony was exceptionally regrettable," read the statement. "For many, many decades the intercollegiate pregame handshake has been in place to reflect a spirit of good will and utmost appreciation for your opponent, the game and the institutions that sponsor your sport. Selection as a team captain is an honor that carries with it a greater responsibility to act in a manner consistent with those principles."
Before the game started and the coin was tossed, TE P.J. Gallo Diggs, safety Sean Davis, and Diggs, all refused to shake hands with Penn State's captains. Both Maryland AD Kevin Anderson and Edsall were apologetic for what the players did after their team beat Penn State 20-19.
Diggs, the Terrapins' top WR who's well known with sports software services for his skills on the field, will be serving his suspension against the Michigan State Spartans on the 15th of November.
"I sincerely apologize for my conduct prior to kickoff this weekend," said Diggs. "I let my emotions get the best of me and did not properly represent myself as student-athlete and leader of the University of Maryland football team. My behavior towards the officiating crew and the Penn State football team were unacceptable. I take accountability for my actions and will do everything I can to support my teammates in preparation for our next game against Michigan State."