The Steelers' offense will prove to be vital against the Ravens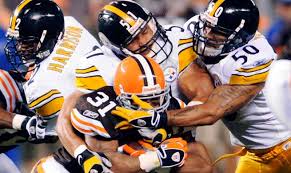 Local bookies know that on Thursday Night, the Baltimore Ravens and Pittsburgh Steelers are going head-to-head, and they're pretty sure that many fans will be in for quite a show when they see these old rivals hit the field.
Whether the Steelers' one-and-only Ben Roethlisberger and his offense will take out the Ravens and Joe Flacco remains to be seen, and if the Ravens will be able to avoid a 0-2 start to their season is a very big question mark.
It's well known that Roethlisberger is very fond of taking on the Cleveland Browns, and he showed it in Week 1.
As he was constantly breaking free from the pressure to make major plays, Roethlisberger was the one leading an offense that was losing momentum after the Browns hit back from a deficit of 24-points, and in the fourth quarter the game ended up tied. In the game's final play, Big Ben was able to find Marcus Wheaton so he could get the ball in good range for a field goal before it was sealed by Shaun Suisham.
When it comes to their offense, Pittsburgh will have many positives when they meet Baltimore. Running back Le'Veon Bell ended up running for 109 yards and scoring a touchdown, and six passes were caught by Wheaton.
However, Perhead.eu agents believe that Antonio Brown was the one who stole the show, as his very strong opening game, with 116 yards, five catches, and a touchdown, showed that the player's last season of 1,499 yards – which is the 2nd place in the league – was by no means an accident. He caught quite a few very difficult passes, and then many fans were stunned when they saw that the player ran right on top of Spencer Lanting, Cleveland punter.
Many experts believe that when they take on the Ravens, the Steelers should be more worried about their defense, which let Cleveland run for 183 yards along with 6.1 rushing yards.
NFL fans wonder what's in store for both teams, and would really like to see how the Ravens will fare against the Steelers when Thursday night arrives.