Tom Brady is not happy at all with Logan Mankins trade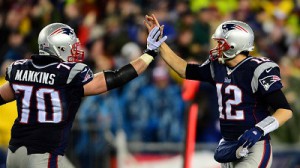 Local bookies know that as teams in the NFL get ready for the regular season to start, many times they end up making very tough decisions that don't always prove to be a hit with many fans and teammates, and this season, one those decisions was the New England Patriots' trade of Logan Mankins.
Last week, many in the football world were taken aback when they learned that the Patriots made a deal with the Tampa Bay Buccaneers and traded Mankins. In exchange they got the services of a 2015 fourth-round draft pick and Tim Wright, tight end who many New England fans will keep a very close eye on.
Reports then started to surface that New England players – QB Tom Brady amongst them – weren't too delighted at all with Mankins leaving the team.
When Brady was asked on a radio show about the player's trade, he said how vital the Pro Bowl offensive lineman was to the Patriots.
"I love Logan, Logan was a great friend of mine. Nobody stood for Patriot football more than him," Brady said. "But he's moved on. I hope he's happy. We'll keep in touch."
The star QB did not deny the report that he was feeling disappointed with the Patriots for trading Mankins, but he stressed that he's putting this behind.
"We've got a game to win. I can't really think too much about what happened in the past," the player said.
"Like I said, yeah, I dealt with whatever feelings I had last week, but I've moved on. I've got to move on, because that's what this team expects me to do. …
"I am a very emotional person. I don't think those things have ever gotten easier for me. And I don't think they ever will. But you've got to come to grips with it also and learn to deal with things in a mature way."
The Patriots' fans are very eager to see how they will perform when the team goes to Miami to take on the Dolphins in their opening game on Sunday at Sun Life Stadium, and many local bookies are anticipating a very interesting showdown, wondering who will come out on top.