Tom Brady sees plenty of promise in Julian Edelman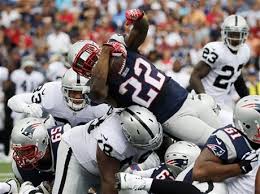 Local bookies saw that the Patriots' offense did a mediocre job on the field for the third game in a row so far this season, as they had plenty of problems when they faced the Raiders, who were not expected to be much of a challenge on Sunday for Tom Brady and friends.
New England's offense appeared to be uncoordinated and lethargic, only recording16 points against the Raiders, who many experts thought would be shredded to pieces by the Patriots. But Tom Brady said that even though the team's offense in general isn't yet flowing as it should, he sees plenty of promise when it comes to Julian Edelman, and so do many local bookies.
"Yeah, he's done a good job, so that's one," said Brady. "We've got a lot of other guys on offense. There's 22 other guys on offense. So, I'm not going to sit here and say every single guy is clicking. We've had one individual player that's caught some passes. Great. Does that make a good offense? I don't think so."
This season, Edelman was the one who was carrying New England's offense, as he finished against Oakland with 10 catches for 84 yards. Even though the player continues to give the only source of production and reliability out of the receivers, Danny Amendola and Rob Gronkowski did not perform like they were supposed to.
"I think that there's not one person on our team that has good individual statistics this year," Brady said.
"If we want to look at individual statistics for running back or receiver, tight end, quarterback — our offense hasn't been producing, so no one's going to have good statistics. That's just the way it is. It's not an individual problem. It's a collective problem by our entire offense, the reason why we're not producing more and producing better.
"We've all got to figure out how to do a better job of that. It's not one person. It's not singling any person out to say, 'Wow, if this person were out, or if this person were in, or' –€" I mean, if we had 11 people on the field that were producing like Julian Edelman, we'd have a pretty good offense. We've got one guy."