Tyler Eifert suffers elbow injury in opener against the Ravens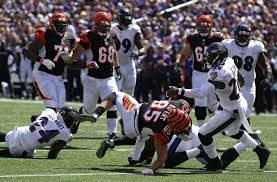 Tyler Eifert, tight end for the Cincinnati Bengals, suffered an injury to the elbow late in the first quarter when his team took on the Baltimore Ravens on Sunday, and had no choice but to leave the game, to the concern of many fans and local bookies.
Cincinnati's fans saw that the team were on the opening quarter's last drive when a 20-yard pass was sent by quarterback Andy Dalton to Eifert, who turned around in order to avoid being tackled. Eifert fell in an awkward manner, and the player grabbed his right arm – then he was seen screaming in pain as trainers were running straight to the field after being called by his teammates.
The player was down for approximately two minutes before teammates and trainers helped him get up. Alex Smith and Jermaine Gresham – fellow tight ends – were among the players who were tapping Eifert on his helmet as he was leaving the field with his right arm held close. The player was quickly rushed for observation to the locker room, and his fans hope that his injury wasn't a serious one.
The player was able to make 3 catches for 37 yards before he left the game against the Ravens.
Eifert suffered the injury on the same play when Cincinnati was finally able to throw a tight-end seam pass – a play that was often used by the team in their open training-camp practices, but they did not want to talk too much about this one in particular. This also proved to be Eifert's longest reception.
A two-tight end formation was used by Gresham and Eifert when they opened the game, and after the injury, Smith and Gresham stepped up for Eifert.
Local bookies can see that that the latest injury suffered by Eifert is coming right after a very difficult preseason for the player, who sustained an injury to the shoulder that didn't see him participate in minicamp or team activities.
Eifert's fans hope that the player wasn't seriously injured, and his progress will be very closely monitored.