What are Auburn's plans for Nick Marshall?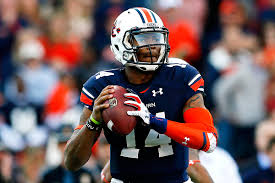 Jeremy Johnson will start as Auburn's quarterback when the team open their season on Saturday in their game against Arkansas, but on Tuesday, coach Gus Malzahn said that Nick Marshall will definitely be playing, but he didn't say how much, and his football betting fans would really like to know.
"We have a plan, and they know the plan," the coach said.
On fall camp, Malzahn was very clear since the first day that Marshall, who last year started in 12 games, would not be able to start in the team's opening game due to a marijuana citation that he got during the offseason. However, football betting fans found out that the coach was waiting until game week got underway to make it official that Johnson would start when his team faces Arkansas.
"We have a lot of confidence in [Jeremy] to run our entire offense, and like I said before, he's very talented," the coach said. "The two games he played last year, he was the freshman SEC offensive player of the week."
The true freshman impressed many fans when he started in games against Western Carolina and Florida Atlantic, scoring 6 touchdowns and throwing for 422 yards.
"I see Jeremy coming out there and practicing good every day," Marshall said.
"He's leading the team just like he's going to be the starter, and I'm behind him 100 percent."
He continued to be the No. 1 quarterback on the school's depth chart – which was released on Tuesday – and his coach said that he was doing well.
"He's had a very good fall camp, not only on the field but as a leader," Malzahn said. "He's ready to go when called upon."
In the first year that Marshall played at Auburn, he was able to score an impressive combined 26 touchdowns, throw for 1,976 yards, and rush for 1,068 yards. The player was already considered to be a contender for the Heisman Trophy as the season approaches.
The team's coaching staff could have a plan set up for Saturday, but not even the team's players know what they are up to.