Winston, Mariota to miss 2015 NFL draft, Sam maybe off to Canada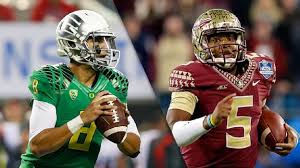 Jameis Winston and Marcus Mariota have both stated that they will not be attending the 2015 NFL draft in Chicago, Illinois, and the NFL commissioner Roger Goodell is ok with their decisions. I thought that the NFL draft was like the three ring circus leading up to regular season, and it seems a little odd that the top two draft picks will miss the big day.
We already knew that Winston, winner of this past year's Heisman Trophy, was planning on spending the day of the 2015 NFL draft April 30th with his family. Quarterback Winston will likely be the #1 draft pick, with Tampa Bay Buccaneers his possible future home.
Mariota has plans to be with his family in Hawaii. The Heisman Trophy-winning quarterback said that it is important to him, both personally and culturally to be in Hawaii to move on to the next part of his life in the NFL.
Missing the top two prospects sounds like a big blow for the NFL, but in this day of technology, both players are no further away than a skype video chat, and in fact their entire families can be part of the excitement.
Will Michael Sam play for the Montreal Alouettes? The Montreal Gazette wrote that Jim Popp, general mange of the Aloutettes, feels he has a 50/50 chance of acquiring the defensive end.
"The CFL is cut out perfectly for [Sam's] style. It would give him the opportunity to do what he does best."
"His agent knows. They're ready. They know this [CFL] may be what it is. It's Michael who has to make the decision — and he might never come."
"The indications were he was ready to come last fall, and he's still not with us. So I really don't know. Seriously, I'd say our chances are 50/50."
The CFL has long been an option for players who aren't picked by the NFL, with such famous name as Dwayne "The Rock" Johnson, who played briefly in 1995 in the practice roster for the Calgary Stampeders.
If Sam does end up in Montreal, let's hope he remembers to bring his long johns as it gets pretty cold in the winter, with the Grey Cup (the SuperBowl of the CFL) played in an outdoor stadium at the end of November. Brrrr.