Arian Foster doesn't know when he will return to action for the Texans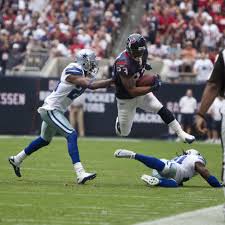 Texans RB Arian Foster said that he doesn't know when he will hit the field again after an injured hamstring that didn't let him play against the Giants on Sunday, to the disappointment of many football betting fans.
Foster, who on the season's first two weeks led the NFL with 55 carries, siad that he doesn't know if he will return when the Texans face the Bills on Week 4.
Arian Foster, who was unable to play when the Texans were defeated on Week 3, said that his status is still uncertain due his hamstring, and for now the player is day-to-day.
"I've played through a lot in this league, and hamstrings are the hardest thing to gauge because you don't know how it's going to fatigue, how it's going to react to a certain cut," said Foster. "You've just got to let it rest … having things heal on their own time. You can't push it or it'll relapse on you."
On Sunday, Alfred Blue took the place of a 28-year-old Foster, and his replacement was able to run for 78 yards on 13 carries when Houston was beaten 30-17. Foster did admit that it was difficult to be sidelined.
"It's just hard watching your team play without you, period," said the player. "I put a lot into this season. I put a lot into what I do as a professional, and so do they collectively as a team.
"When all your people aren't out there, it's just hard to stomach, but it's part of the game."
Foster featured in only eight games during a 2013 that was cut short due to injury, but the player was heavily used this year in the Texans' initial two games. He brought in four receptions, and on 55 carries he was able to run for 241 yards.
PerHead.eu fans saw that most of Blue's yardage was gained in the third quarter on a run of 46 yards, but on the ground the player was struggling to do more. But Foster said that he was feeling "proud" of the player, who is a rookie.
"I thought [Blue] played well," said Foster. "It was his first start. I know it was on the road and he made some big plays. I feel like he has a good future in this league. I was proud of him."