Jordan Cameron won't play against the Bucs after suffering a concussion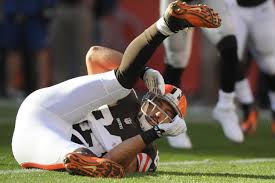 The Browns TE Jordan Cameron won't be able to play in Sunday's game against the Buccaneers due to a concussion suffered in the team's win over the Raiders, and local bookies were shocked when they saw the way in which the player was injured.
Now Cameron is in doubt on whether he will be available or not for the Browns' game on Thursday night at Cincinnati, which would be four days prior to their showdown with the Buccaneers.
"That's always a concern when you have fewer days, sure," said coach Mike Pettine.
This would prove to be the third time in a bit over two years that he would miss playing time due to a concussion, and this season, this would turn out to be the second time that he was injured and was out of a game. Earlier in the season, the player was also not able to feature against the Saints, in a game won by Cleveland thanks to a field goal scored in the last minute.
Even though Cameron is out of the game, Cleveland will have the services of both Gary Barnidge and Jim Dray, which many fans believe could seriously help out with the player's absence.
"There are certain things that Jordan can do that he's special at," said Kyle Shanahan, the team's offensive coordinator. "I think Jordan has a lot of talent, especially stretching the field, but I do feel very good about Barnidge and Dray stepping in. They're both good run blockers and they both can help us in the pass game.
"You don't feature them as much [as] you would a Pro Bowl tight end, but as far as going vs. zones and stuff and even some man-to-man situations, I think we'll be all right."
The player made a diving catch during the second quarter of the game before Raiders safety Brandian Ross hit him. Cameron, who ended up dropping two passes earlier on, was able to hold on for a gain of 21 yards, and Ross ended up getting a personal foul after he struck a defenseless WR, and was fined $22,050 for the hit. Cameron was hit by Ross in the area of the neck and head, and his neck snapped to the front in a very frightening manner.
Many fans and local bookies saw what a nasty hit Cameron received, and are very worried about his condition. Hopefully he'll recover in time for Thursday's game, but know that the most important thing is for the player to make a full recovery.