Philbin won't talk about Tannehill's status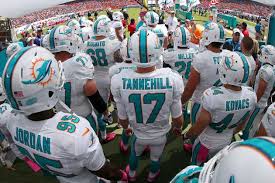 Dolphins fans and sports software services were left feeling frustrated on Monday when on a news conference, coach Joe Philbin refused to answer four times whether QB Ryan Tannehill will continue to start for the Dolphins when the team takes on the Raiders next weekend.
The player is leaving another unstable performance after the Dolphins were beaten by the Chiefs 34-15. He was able to throw for 205 yards and a TD, and seems to be well his way to record lows in his career, as he has a passer rating of 74.1 and a completion percentage of 56.5.
As the Dolphins are 1-2 so far as the season progresses, the coach refused to answer the question about their QB position, and many fans would really like to know about what Philbin is up to regarding the player.
"We're going to get our 46 best players in the game and we're going to utilize them the best way possible," said the coach.
The coach was later asked if this week Matt Moore and Tannehill would compete openly.
"Again, we're going to choose 46 guys that we think will help us win the football game," said Philbin.
Philbin was also asked if Tannehill's status is uncertain since the question hasn't been answered.
"Again, I'm going to stick with the answer that I've given," said the coach
The coach got another opportunity to back up the player as this week's definite starting QB for the Dolphins.
"We're going to start our game plan for Oakland when I leave here and we're going to decide which 46 players are going and how to best utilize them," answered Philbin.
Sports software services know that when it comes to answering questions about the teams' starters, he's not quick to answer. In fact, it's a rare thing if he does answer. However, this issue would have been much clearer if Philbn would have decided to back Tannehill, who as a starting QB is 16-19, and many fans can see that both of them are currently under a lot of pressure.