The Jets are in a tough place against the Packers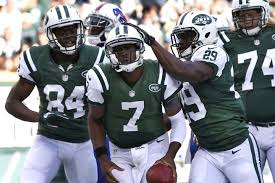 The Jets mustered a win in Week 1, but sports software services believe that beating the Oakland Raiders – who could very well be the NFL's worst team this year – by only five points, gives football betting fans something to think about.
Rex Ryan – world-famous Jets coach – seemed to agree, as he said that that their season's opening game – where they won 19-14 – should have been as easy as a "rat kill," even as he was able to improve to 8-1 in games where rookie QB's made their debuts in the league.
The coach most likely has a point. The Jets will have to get their act together when they take on the Packers in Week 2, and in 2014 Green Bay are expected to make it to the playoffs. The Jets ended up taking 11 penalties for a 101 yards total against Oakland, with two added turnovers. Aaron Rodgers tends to punish teams for these types of mistakes.
QB Geno Smith only looked average against the Raiders' secondary, and he was often placing himself in situations where he had no choice but to be hit hard by a defender. But Smith proved to be efficient on the field, however, as he went 23-for-28 for 228 yards, which gave many fans a certain degree of hope.
For the Jets, the most important thing in this game is how they manage to play on either side of the ball, which should be something that the team can use to their advantage.
For years, Green Bay head coach Mike McCarthy said that his team relies on what he considers to be at least a modest running game in order to open Aaron Rodgers' chances to pass, and last season they were able to hold teams to 88.7 yards per game, in what was considered by many experts to be the NFL's third-best rushing defense.
The Jets kept that trend when they took on the Raiders, only allowing 26 yards to Maurice Jones-Drew and Darren McFadden.
New York did a very good job rushing the ball, getting a combined 170 yards by Chris Johnson and Chris Ivory, who both seem to be doing better this time around than last year.
If the line and rushing games are still dominated by the Jets, they should not have much trouble clinching another win in their next game.
Last Thursday, the Packers ended up losing their season's first game 36-16 to the Seahawks, who many fans believe played at a very high level – a lot like last year.
But maybe the loss was not the worst news. On Thursday, the Packers lost the services of at least one and maybe two of their starters. Bryan Bulaga, right tackle, had no choice but to leave the game due to a sprained knee, and Eddie Lacy, offensive rookie, had yet another concussion, concerning many of the team's fans
Even though these players have a relatively good outlook, they are still questionable for their game on Week 2.
It is not easy at all to know which one of these injuries could give more of a reason to worry in the game against New York. Derek Sherrod, who replaced Bulaga against Seattle, entered the game and was quickly beaten on two sacks by Aaron Rodgers. Meanwhile, Lacy is the player who the Packers might be the most excited about this year.
For Green Bay, James Starks, running back back-up, seemed to be fully capable of taking Lacy's place in Week 1, as he rushed for 5.1 yards per carry on seven carries against the Seahawks.
The Packers being able to score early in the game could prove to be crucial, and sports software services would like to see if they'll be able to do this when they take on the Jets.
More New York Jets news: