Woodhead suffers fractured fibula and will miss the rest of the season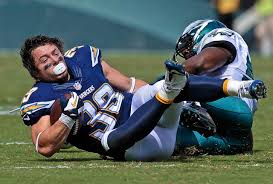 Danny Woodhead, San Diego Chargers RB who pay per head agents know is a key piece to the team, will not be able to play for the rest of the season after he suffered a fractured fibula in his right leg when the team faced the Buffalo Bills on Sunday. Coach Mike McCoy said that the Chargers put Woodhead on the injured reserve list, and now the player's season came to a definite end.
"We're going to miss him," said the coach. "But we've got to move on."
The player suffered the injury in San Diego's third offensive play when they went head-to-head against the Bills. Bills DT Kyle Williams tackled the 29-year-old after a gain of one yard. The player made a dive right into the RB's ankle, and many fans were shocked when they saw the play.
Woodhead left the field this happened. The player's season will finish with him catching the ball five times for 34 yards, as well as 15 carries made for 38 yards.
Now the Chargers have limited options at the RB position with Woodhead out of the game. San Diego is already missing one running back after Week 2, when Ryan Mathews suffered a sprained MCL. He's expected to be out of the game from 4 to 5 weeks, and the team's fans can see that this is yet another reason for concern.
San Diego only has two RB's remaining on their depth chart, and they are Branden Oliver and Donald Brown. Brown was able to make 31 carries for 62 yards in the Chargers' 22-10 win over the Bills, while 3 carries for 11 yards were made by Oliver.
The team would also have an RB added to their ranks, and pay per head agents were glad to learn that McCoy did not eliminate this option.
"We're looking at that right now," said the coach.
Woodhead's fans know that the player's absence could come as a big blow to the Chargers, but they know that the most important thing is for him to make a very speedy recovery.