Bruce Carter will be out from 10 to 14 days after quadriceps strain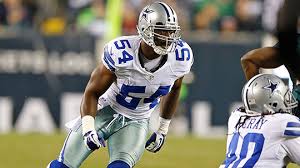 Sports software services can see that there's plenty of concern in the Cowboys' fan base, as it appears that Bruce Carter, LB for the Cowboys, will be out of the game from 10 to 14 days, as according to the player, he was told to rest his right quadriceps after it was strained in an injury that took him out of his team's clash against the Texans on Sunday.
"It's just one of those things where the body has to heal it just with him," said the player. "Just rehab basically. I've just got to keep doing my rehab and I should be fine. … Hopefully it goes a lot faster than that. I want to get back out there."
The player suffered the injury during the fourth quarter of the Cowboys' win over the Saints, while RB Khiry Robinson was chased by the player on run of 62 yards. Rolando McClain stepped up for Carter.
"I felt like I got shot," said Carter. "I was opening up about to catch him and then just, 'Pow! Out of nowhere.'"
Last season, DeMarcus Ware, former LB, was not able to play in three games for the Cowboys due to a strain in his quadriceps.
"It's just something how your body responds to it," said Carter. "Some guys are different so hopefully my recovery time will be lot faster than his."
The game between Dallas and New Orleans was one of the best ones played by Carter, according to coach Jason Garrett. Carter was able to deflect a pass, leading to an interception by Justin Durant. The player ended up finishing the game with two pass deflections and six tackles, and he's the one to lead Dallas with one sack and 29 tackles, four pass breakups, three pressures on a QB, and an interception.
The player's backup as the strong-side LB in the team's base defense is Kyle Wilber. Sports software services saw that McClain, who ended up playing through a strain in the groin area, was able to continue alongside Durant in the nickel defense.
"This is a minor setback but at the same time it's part of football," said the player. "It happens around the league all the time. I just got to get my body back right and I'll be fine."