The Raiders might not stand a chance against the Texans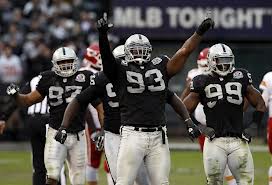 The Houston Texans' football betting fans saw that the team had a pretty good start in 2014, as on Sunday they were able to beat the Washington Redskins 17-6. Now the team will get the opportunity to take out the Oakland Raiders, a team that didn't do very well at all on Week 1 against the New York Jets. Even though last season they only went 1-7 in away games, Houston was 3-5 against the spread.
But Houston won't have the services of rookie Jadeveon Clowney, who pulled out of his debut in the NFL due to a torn meniscus. The player is set to be out from four to six weeks, and this will shorten his season as a rookie.
Even though they missed Clowney, the team has the services of J.J. Watt Houston as a great pass rusher to help out in their defensive area. The player could prove to be a very big threat to Oakland's rookie QB Derek Carr, a lot like the player was last Sunday against RG3. On Week 1 against the Redskins, Watt had five QB hits, two tackles for loss, and a sack.
Generally speaking, Houston's defense allowed for 372 yards, but on 12 attempts against Washington, the team was just three conversions in the third down.
When it comes to their offense, QB Ryan Fitzpatrick had a pretty solid debut for the team as he was able to complete 14 out of 22 passes for 206 yards, as well as a TD. DeAndre Hopkins and Andre Johnson could end up being proficient targets for Fitzpatrick. On nine targets, Johnson was able to catch six for 93 yards, even though Hopkins had four receptions for 89 yards, as well as a very impressive TD catch of 76-yards.
Houston's offense is rounded out by RB Arian Foster, as the player recorded 103 yards on 27 carries for a 3.8 yards-per-rush average. Foster could have a very nice day when he takes on Oakland, who last week allowed a total of 402 total yards, and 212 of those were on the ground.
In five of Houston's last seven games being the favorites, the total went over.
Even though they won two of their games in the preseason, the Raiders went back to losing after the New York Jets defeated them on Sunday 19-14. On Sunday, the team will most likely have a very difficult time when they take on Houston at home..
In his debut for the NFL, rookie QB Derek Carr was able to complete 20 out of 32 passes for 151 yards and two touchdowns. Oakland was more for short passing plays, and this is logical considering that their rookie QB started for the Raiders for the first time. However, it only brought the team a 4.72 yards-per-throw average, something that they'll have to work on increasing when they take on Houston.
The Raiders' running game also didn't do much at all. On 15 carries, the team could only get a single yard per rush. In the game, Oakland were able to get a 158 yards total, with only 26 on the ground.
But many football betting fans believe that this season, the Raiders' rushing attack could still be the team's biggest hope. Darren McFadden and Maurice Jones-Drew were expected to properly do their jobs in 2014, and they should be able to improve against Houston, who last year had a ranking of 23rd place in rush defense, and in Week 1 allowed 131 yards.
Regarding their defense, Oakland also didn't do very well at all. Even though the team forced two turnovers and allowed only two TD's, they let the Jets make 212 rushing yards. On the ground, the Raiders could end up in even more trouble, especially if the team faces Arian Foster, who was able to rush for three 1,000-yard seasons in a row when fully healthy.