McCracken believes that Froch has nothing to gain from facing Hopkins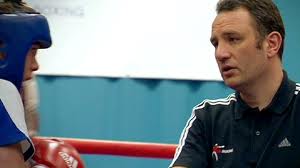 Rob McCracken, Carl Froch's trainer, said that 'The Cobra' is currently considering the options that he has, but Bernard Hopkins might not be among those options as he believes that there's nothing for him to gain from this fight taking place. Sportsbook software services know that this issue is creating plenty of controversy in the boxing world, and wonder what the Nottingham fighter will ultimately decide to do.
"I know Carl thinks he would get no thanks for beating a 50-year-old but it's a fight Carl would definitely win."
The American, 50-years-old, who said that Froch is a coward for not wanting to face him, wants to go head-to-head with the four-time British world champion, saying that he could even pick the spot for this fight.
But even though there were continuous discussions taking place between both sides, Froch, who has no interest in a fight like this one taking place, and McCracken, his trainer, said that this clash won't give the champion of the WBA super-middleweights anything to gain or fear.
His trainer also said that the injury suffered on his elbow – something that led Froch to cancel a fight against Julio Chavez Jr. in Las Vegas – is properly healing, and believes that there are still two or three years remaining for him at the top level, something that sportsbook software services hope proves to be true.
McCracken said: "He's just weighing up his options. There are ongoing talks with Chavez and Hopkins but it's what motivates him the most that matters.
"The elbow's healing nicely but not fully recovered but there was not enough time for Chavez and he made the right decision (to call off the bout). All options are open to Carl."
On Hopkins, the trainer added: "It (the coward remark) was just tongue-in-cheek. Carl has fought everyone in the world in the last seven or eight years, the who's who of super-middleweight boxing.
"They're still talking about a Froch-Hopkins fight, and there are ongoing talks, but Hopkins is 50 now and a legend of the sport but he's too long in the tooth and Carl would win the fight without a shadow of a doubt.
"I know Carl thinks he would get no thanks for beating a 50-year-old but it's a fight Carl would definitely win."
When asked if the Nottingham fighter thought about retiring from the sport, his trainer said that it's one of several options to be taken into consideration.
"Ultimately Carl will make that decision," said McCracken. "Retirement is an option, fighting Chavez is an option and fighting Hopkins is an option.
"Realistically there is plenty left in him and he could comfortably continue for another two or three years. And we'll find out shortly. He wants to box on and a fight with Chavez is at the forefront of his mind."