Joe McKnight suffers torn Achilles tendon and is out for the season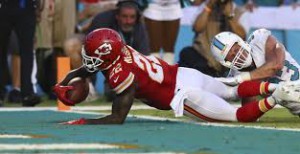 Local bookies learned that Kansas City's Joe McKnight is the brand new addition to the Chiefs' IR list, as one of his Achilles tendons was ruptured during practice on Thursday. He happens to be the team's third player to injure an Achilles tendon, putting his season to an end. Joining him are DT Mike DeVito and LB Derrick Johnson.
DT Mike Catapano is also on the injured reserve list following a long illness, and OT Jeff Allen was also put on the list after he suffered an injury to his biceps. Safety Sanders Commings, QB Tyler Bray, and WR Kyle Williams were not even able to make it all the way through training camp before the players were placed on injured reserve.
Safety Eric Berry and RB Jamaal Charles were also hurt, so when it comes to injuries, things could probably not be much worse for the team this season.
"They always say, `Two things you can't worry about are weather and injuries, because you can't control them,' " said Bob Sutton, defensive coordinator for the Chiefs. "It's one of those things."
McKnight was ridden by injuries that go back to the time that he was a player at Southern California, and with the Jets he was never healthy enough. Last season, the player was completely out of the league.
As Charles was not in the team's lineup when they took on the Dolphins last week, McKnight took the role. For 64 yards, the player was able to record six receptions and a couple of TD's when the team beat Miami 34-15.
Even though Charles is set to return to action against the Patriots on Monday night, McKnight is doing all he can to get regular time on the field, and local bookies wonder if he'll make it.
"We're really upset for him because he was a year-and-a-half without playing and coming out and having success, and doing a good job for me as a returner," said Chiefs Dave Toub, special teams coach.
"It's a shame. I feel bad for him."