Clowney set to visit Dr. Andrews for a second opinion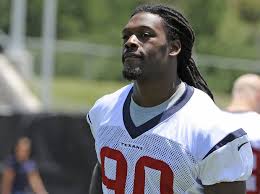 Sources reported that Jadeveon Clowney, outside LB for the Texans, is set to meet Dr. James Andrews so he can get another opinion on his operated right knee, something that the player's fans and internet bookmakers believe is very important.
It's no secret that recently, Clowney was held up due to the problems with his knee, and he wasn't able to feature Houston's win against Titans on Sunday.
What the player originally had was meniscus tear that took place on September 7th, when the Texans opened their season. The day after that, the player received arthroscopic surgery to the knee. Clowney was unable to feature for the next six meetings, went back for a game, missed the one after that, and then played in Houston's games with the Browns and Bengals on Week 11 and 12.
The week before the game w against the Bengals, the player said that something was wrong with his knee. He soldiered on though, and was able to record in the process 69 defensive snaps, which is a season high. Afterward, he had more knee pain and swelling, particularly when positioning his leg to switch ways.
"I'm kind of surprised; I thought it would have been over," said the player. "I thought it'd be back to where it was by now. Some people react differently to injuries."
Then, Clowney said that he didn't expect the need to have yet another operation, but this could now be the case.
"This guy has worked extremely hard to recover from injuries," said Bill O'Brien,Texans coach.
"And I want to be real clear about this with him, as it relates to us here to the Houston Texans. We think very highly of him. We know he's going to be a really good player. He's been unlucky."
In June, Clowney underwent surgery to the groin, and this took place shortly after the player signed his contract as a rookie. In August, the player suffered a concussion when his team practiced with the Broncos, in an injury that also worried many fans.
O'Brien said on Friday that the team was not thinking about Clowney being out this season. With only four games left this season, another surgery for the player would probably put his season to an end.
Even if Clowney does receive a second operation and is out of commission for the rest of the season, internet bookmakers know what a key player he is, and believe that the most important thing right now for the player to do is to fully heal his knee.
More NFL News: 
Bears safety Chris Conte suffered an injury to his left eye
Matthew Slater signs new deal with the Patriots