Jim Caldwell said that Calvin Johnson's ankle injury didn't improve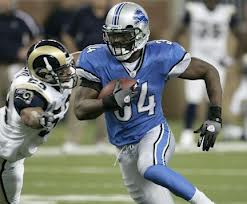 Jim Caldwell, Lions coach, said that if no improvements are made on Calvin Johnson's ankle injury, he could end being benched. Now pay per head agents can see that the team has a real reason for concern.
"That possibility always exists," said the coach. "Just kind of depends on how one progresses during the course of the week. There are some times that they move forward enough that they won't have any significant setbacks and other times you don't feel that way. You have to wait until the end of the week and react accordingly."
The coach was evasive when he was asked if Johnson would be available for Detroit's game against the Bills when he said, "We'll see. We'll see how it goes."
Last season, the player ended missing two games, as he was dealing with injuries to his finger and knee that had to be operated during the offseason.
Johnson was not able to practice on Wednesday as well as on Thursday, but on Friday he did return. A week ago the player was also limited when the team took on the Jets. Johnson finished the game with two catches made for 12 yards and was targeted on two occasions.
On Wednesday, Johnson said that he was feeling a lot better than last week, and this came as a big relief to many fans, but they're still concerned, especially after they saw the player limp following the game last Sunday.
"Things have gotten better all week," said Johnson. "It was a struggle at first, and as the week progressed, it got better and better."
This week, Johnson was looking forward to the same, but pay per head agents learned that the player's practice routine didn't change at all. This season, Johnson was able to record 341 yards with two TD's, along with 21 receptions.
The Lions' offense is not exactly in perfect condition as they're pretty hurt, and Johnson happens to be a part of it. WR Golden Tate was not able to practice on Thursday due to an injury to a hamstring, and RB Joique Bell did not practice since the concussion that he suffered when his team took on the Jets.
The coach said that he was looking forward to seeing Tate take on Buffalo.
"If he can't go, obviously we'll have other guys step in and do the job," said the coach. "I don't anticipate that being the case, but if that does indeed happen, we have guys that have been preparing and have been working at it."
NFL Week 5 Related Post:
Will the Patriots suffer another embarrassment?
The Vikings won't say if Bridgewater will start against the Packers
EJ Manuel would like to get a chance to start again for the Bills