Russell Wilson said that there's no division in the Seahawks' locker room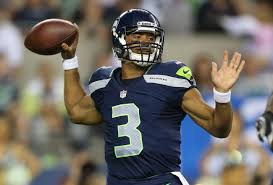 Russell Wilson, the Seahawks' famous QB, countered a report made about the team's locker room being divided, and sports software services hope that his words prove to be true.
"There's no division in our locker room," said Wilson. "There's none at all. If anything, I think's we've continued to build and continued to grow. I truly believe that.
"The guys we have in the locker room believe we can still be a championship team. Those are the guys we have in this room every day. Every morning we have one common goal and that's to win football games."
The player also mentioned reports made that there were problems between himself and WR Percy Harvin, who on Friday was traded by the team to the Jets.
"Percy and I never had differences," said the player. "We had a lot of similarities, probably, more than anything. We're both guys who want to compete at the highest level, want to win every time we're out there and want the ball in our hands every single play.
"Percy is a great football player, but for whatever reason, it didn't work here. We wish him nothing but the best. But our locker room is great. We have guys that are very positive and really want to work and want to win. We rely on the positive mentality in our locker room."
There were other Seahawks players who were in agreement when they were asked about a divided locker room.
"I hadn't heard that," said Kam Chancellor, strong safety. "But if that's what people are saying, it's absolutely ridiculous."
Earl Thomas, free safety, was asked if he felt offended that anyone would suggest about there being a division in the team's locker room.
"It doesn't offend me at all because they're not here and they don't know," Thomas said. "I think this team is headed in the right direction."
Wilson and sports software services believe that comments like these are not unusual when it comes to the Seahawks, as they're defending their status of Super Bowl champions, have consecutive losses, and this season have a record of 3-3.
"I'm not sure why the media chose to blow everything out of proportion," said Wilson. "That's just part of it I guess, but you also have to ignore it. Like I always tell you guys, ignore the noise.
"I don't read any of y'alls articles, no offense. I just stay away from it all. I have complete confidence in who I am and the person I'm striving to be every day. I'm an educated person who wants to continue to get better at the game of football, but also in life."
More NFL information:
The Patriots' Darrelle Revis was sent home from practice
Caldwell does not want the Lions to do a lot of sightseeing in London
The Browns lose Mack for the rest of the season